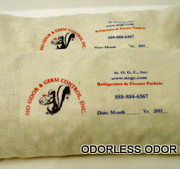 Refrigerator and Freezer Packets By dba N.O.G.C.                             Two Per Package
Benefits:
>Convenient hand surged packets  made by dba N.O.G.C. for optimum odor adsorption.

 > No more tainted ice cubes or ice cream
> Prolonged shelf life of fruits, vegetables and meats
> No ODOR
> Nothing to spill or clean up
> Packets work like a magnetic odor sponge. A natural electric charge draws odors and bacterial gases into and onto acres of crystal micro-channels.
> Odor molecules are trapped in packets
> For refrigerator or freezer that has had food to spoil and has a real bad smell, use the Odor Crushing Packs, to pull the smell out of the insulation
DIRECTIONS FOR USE:
Refrigerators & Freezers – Saves energy. Absorbs odors. promotes freshness. Food lasts longer. Eliminates ice crystals.  Use Rate: Use 1 or 2 packets. Remove clear overwrap, do not open pouch. Place in area of highest air circulation, normally the second shelf at the rear of refrigerator.
Easy to use, simply place in refrigerator or freezer and forget it. Replace once a year or more frequently, write purchase date on the Packets.
Walk-In Coolers & Refrigerated Display Cases – Odor control, extends shelf life of meat, fish, fruit, flowers, vegetables, eggs, dairy.  How to Use: Hang in areas of maximum air flow or in return vents. 4 oz. units will prevent cross contamination of fish smells. Use Rate: 2 lbs. per 250 sq. ft. until odors are gone, then 2 lbs. per 500 sq. ft. for maintenance.
For Maintenance:
For best results, place separate Packet in the refrigerator and freezer compartments.
When used in refrigerators and freezers (including RV's), they maintain moisture and odor control. Keep fruits, vegetables, cheese and other foods fresh with N.O.G.C. Refrigerator Packets.
Money saving tip: 
The Refrigerator packets can be used in the refrigerator to absorbs odors and gases emitted by foods which prevents foods absorbing fish or garlic odors and unpleasant tasting ice or frozen confections. Use in refrigerators & freezers to save energy, absorb odors, and promote freshness which causes foods to last longer. In the freezer, it helps eliminates ice crystals.
A study from Oregon State university concluded up to 15% savings on your refrigerator's electric bill due to Zeolite's ability to maintain optimum humidity. It reduces the amount of electricity used by refrigerators from 7-15%, while keeping fruits & vegetables fresher, longer. So now there are two easy ways to save electricity.  You can drastically cut your home's power bill by using fridge-packets.  More effective than baking soda and the dust proof packet is also more user friendly than an open box of powder, which can lead to messy spills.
//nogc.com/wp-content/uploads/2013/04/logo-100h.gif
0
0
sheryl
//nogc.com/wp-content/uploads/2013/04/logo-100h.gif
sheryl
2013-03-07 22:32:00
2015-11-18 21:50:29
Refrigerator and Freezer Packets