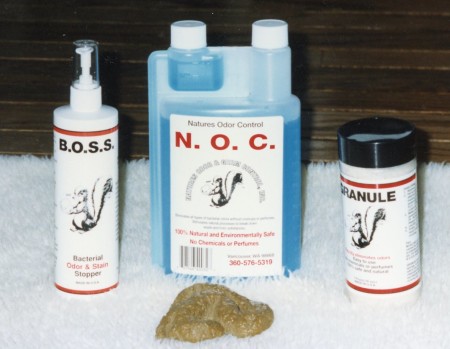 News & Memories
N.O.G.C. / Natures Odor & Germ Control, Inc.  is a thirty + year old company dedicated to helping you clean and deodorize your home, kennel, automobile or camper anywhere you spend time, along with helping you keep your pets' odor free. Our products are "Green Products" that are non-toxic, environmentally safe, to humans and animals. Very Important, Product is 100% made and packed in the USA for over 30 years!
N.O.G.C. products "Eliminates Any Odor Anywhere".  How can you eliminate an odor and leave an odor or fragrance behind? Simply speaking, you can't!
It is so nice to be able to help our customers with problems; for them to be able to keep their pets and to give their pet a better lifestyle and make life simpler for us all.
Sheryl takes great pleasure in helping chemically sensitive people solve their mold, mildew, and odor problems. Our customers become our friends and we want to hear from them with any questions and comments.
Our realtor, with Stan Wiley, saw firsthand how the products worked in the home we bought. After the carpet had been removed, we found that cat urine was saturated into the subflooring. He saw the products and the way we used them in the area. When he went back to his office and told the staff about the products, Stan Wiley's office manager wanted Ron to be a part of their next weekly meeting and do a demo with the household ammonia. Products were purchased on the spot after the meeting!
More and more people have pets and need the odorless odor control. People are getting away from using chemicals, for human, animal or plant health. They are interested in our all natural product line with no chemicals. The demo with the household ammonia in one's hand is what built this business for many years. If a product won't get rid of ammonia on your hand, it surely won't work on the carpet or anywhere else. We use household ammonia to demonstrate with because when urine volatilizes it becomes ammonia. Urea decomposes to ammonia (if you have cats you most likely know this firsthand)… and bacteria grows unchecked.
Our first big show was the Home Improvement Show and Martha Allen of The Oregonian wrote a nice article of two companies with the same goal – to eliminate bad odors. People came to the show with the article in hand and wanted to see our demo. We had no idea how much our products and instructions were needed to Completely Eliminate Odor, don't just cover it up!
RV LIFE Best in the West by Laura Locken took the product on a long RV trip. Product test: Clearing the Air, as said by Laura, "Having used the product throughout a number of tests, I can testify with confidence that, used according to directions, N.O.G.C. Clean Air System will help to eliminate numerous types of unpleasant odors in virtually any situation."
Bill Rooney had a talk radio station, "Around the House" with call-in questions and answers on KXL 750 AM. Bill invited Ron on Saturday, August 22, 1:00 – 3:00 PM. We could not keep up with the phone calls in the office. We were delighted with the response for our products.
The Oregonian took pictures and Gloria Gonzales wrote a nice article on testing ground. Before there were shopping channels, vendors were trying out wares at the fair. "We were approached by both shopping channels at the fair last year, Lobdell said". But we were not ready to go, and TV has its disadvantages, she said. Lobdell squeezes a few drops of ammonia into a customer's hand, then rubs small brown grains of Granule into the liquid. She tells him to smell his hand. "Even on TV, I can't demonstrate this," she said. "This is the only way a consumer can smell the results."
With sixteen years of home improvement, dog shows, cat shows, RV shows and all kind of Trade Shows in five states, and up to twenty-five shows a year, we have met a lot of wonderful people.
We are enthusiastic about our tested products because we know that they will work for you if used correctly. Do this simple test yourself: Rub a little household ammonia or fresh cut garlic on the palm of your hand. Smell it. (Whew!) Now rub N.O.G.C. All-Purpose Granules on your palm, brush it off and smell it again. You will notice that the odor is gone. In fact, there is no odor of any kind! Our products do not cover up one odor with another; they simply eliminate all odors. Period.
Our all natural products come from the Earth. Nature makes our ingredients, such as N.O.G.C., Inc. Special Blend of Zeolite and blue-green algae and we refine them for your use.
Remember, if a product has an odor or fragrance of its own, it is merely a cover-up, not an odor eliminator. The "cover-ups" mask or hide the odor and change the way you smell the odor. We like to say that we are FIRST and LAST in odor control. All of our products are virtually odorless within themselves, thus they have the ability to completely eliminate odor. Not simply cover it up!