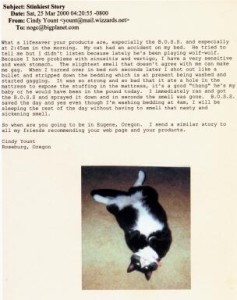 Cindy Yount – B. O. S. S. saved the day and yes even though I'm washing bedding at 4 am.
Subject: Stinkiest Story
Date: Sat, 25 March
Cindy Yount
What a lifesaver your products are, especially the B.O.S.S. and especially at 2:45 am in the morning. My cat had an accident on my bed. He tried to tell me but I didn't listen because lately he's been playing wolf-wolf.
Because I have problems with sinusitis and vertigo, I have a very sensitive and weak stomach. The slightest smell that doesn't agree with me can make me gag. When I turned over in bed not seconds later I shot out like a bullet and stripped down the bedding which is at present being washed and started gagging. It was so strong and so bad that it ate a hole in the mattress to expose the stuffing in the mattress, it's a good "thing" he's my baby or he would have been in the pound today. I immediately ran and got the B.O.S.S. and sprayed it down and in seconds the smell was gone. B.O.S.S. saved the day and yes even though I'm washing bedding at 4 am, I will be sleeping the rest of the day without having to smell that nasty and sickening smell.
So when are you going to be in Eugene, Oregon? I send a similar story to all my friends recommending your web page and your products.
Cindy Yount
Roseburg, Oregon
Cindy's Cat