Description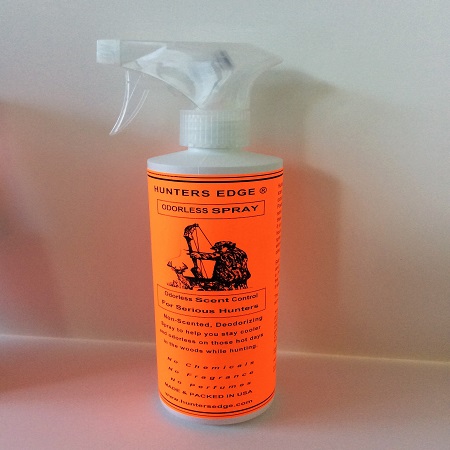 Case (12) Hunters Edge® Odorless Spray
HUNTERS EDGE ® Original 16 oz. Odorless Spray Non-Scented, Deodorizing Spray to help you stay cooler and odorless on those hot days in the woods while hunting.
HUNTERS EDGE® Original Spray odorless scent control (16 oz.) when used in conjunction with HUNTERS EDGE® Original Powder is the ultimate odor and scent control for serious hunters, these products work so well that if you were to get lost even a bloodhound could not track you. Our spray works quickly and safely to eliminate human scent and all other odor.
Odorless Scent Control For Serious Hunters
" WARNING"!   DO NOT USE THIS PRODUCT UNLESS YOU ARE SERIOUS ABOUT CLOSE ENCOUNTERS.
The product is non- allergenic,  non-staining and non-toxic.
Safe to use around children, pets, and plants.  HUNTERS EDGE® Original is not a  perfumed or scented deodorizer that disguises or masks odors. It simply eliminates odors naturally.
You have tried other products but they don't eliminate your odor, they hide it and the game can still smell you or the odor they use to hide your odor.