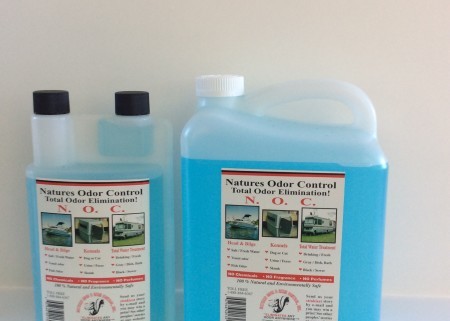 Natures Odor Control (N.O.C. ™)
Product of Natures Odor & Germ Control, Inc. / N.O.G.C. ™
N. O. C. ™ liquid effectively controls bacterial odors in areas such as marine heads and bilges, grease traps, RV total water treatment, skunk odor, dog runs and kennels, contained animal houses, septic systems, and even down to the dog's bad breath.
Nature's answer to odor control problems without the use of chemicals. N.O.C. ™ is a 100% natural product that is odorless non-staining that quickly gets rid of odors by balancing the microbial activity. It is a liquid biological stimulator developed from a complex fermentation process, which contains safe biological activators that supercharge healthy aerobic bacteria that are already present. It does not contain any live organisms or enzymes. It is odorless, organic and environmentally safe. More simply, it is a complex solution of amino acids, vitamins and trace minerals derived from blue-green algae that stimulates a natural bacterial process to eliminate all types of bacterial odors without cover-up fragrances.
Display 39 Products per page