Frequently Asked Questions about Natures Air™ Spray
A Non-Scented, Deodorizing Spray For Home, Office, and Auto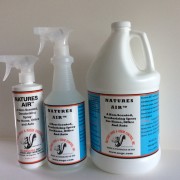 Natures Air™ Spray works quickly and safely too, eliminate airborne odors.
It is not a perfume or a deodorizer that disguises or masks odors.
Natures Air™ Spray neutralizes, sanitizes, and eliminates odors.
What is Natures Air™?
It is an odorless unscented spray for home, office, auto or recreational vehicles.
Which of N.O.G.C., INC. Is products best for smoke odor in the air?
Natures Air™: spray room or house with the product. It is best to have a fan running or even wave a towel around for circulation.
Does Natures Air™ have any fragrance or smell of its own?
No. It is completely odorless so it does not mask odors, it eliminates them completely.
I had to walk through a smoking area to get to the restroom, now I smell like smoke; what can I do?
Spray Natures Air™ up in the air and let it fall on your clothes.
What type odor does Natures Air™ work best for?
Natures Air™ works very well on bathroom odor, cooking odor, tobacco smoke, and burnt foods.
We had bacon for breakfast and here it is supper time and I still smell bacon, and we are having company for supper, HELP?
Spray Natures Air™ all over the house and in the microwave, where the bacon was cooked, then wipe the microwave out with a damp paper towel.
Will Natures Air™ hurt fabric or leather if sprayed on them?
No. This product is non-staining, odorless and colorless and may be sprayed on any type of fabric or leather, such as in automobiles for smoke or pet odor.
We bought a car, and it had been smoked in, I need to get rid of the odor.
Spray inside of vehicle all over then spray through circulation system. If the odor is really strong, I would use Carpet Granules, also.
Will Natures Air™ stain my white tablecloth and other light color items?
No. the product is non-allergenic, non-staining and non-toxic.
Will Natures Air™ hurt my pets, plants or children?
No. The product is totally safe around people, pets, plants, and food.
I am cleaning the refrigerator and I need to know if I can use Natures Air™ to spray in my refrigerator since I can use it in my microwave?
Yes, you can use Natures Air™ in the refrigerator.